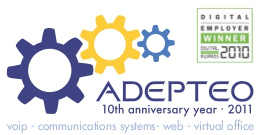 FREE Trial
Sign up today for a FREE 7 day trial of Adepteo's VoIP service!
SIGN UP NOW
Latest News
What our customers say about us - Geri B, Bolton
I have found Adepteo to be a professional, creative telecoms company who have provided us with a fantastic service. I cant recommend highly enough. Thanks to Carl and all his team — Geri B, Bolton
Your Basket
Your basket is empty.
Get in touch
P: 0330 122 2300
F: 0161 710 3019
E:
A: 24 Market Street, Tottington, Manchester, BL8 4AD
Contact Us Now
Social Media
Trade Membership
Adepteo are Members of the Internet Telephony Service Providers Association