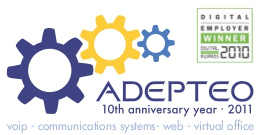 FREE Trial
Sign up today for a FREE 7 day trial of Adepteo's VoIP service!
SIGN UP NOW
Latest News
Free Trial
A FREE 7 Day trial of our VoIP Service on your Android or Apple mobile device.
Free 084 number for people to call you
5 minutes of free calls to try calling UK mobiles and landlines
Instant activation
Free software download
Minimal configuration




‹
›
VoIP Single User System
For the single user we can provide a system suited to the way you do business.
We can help you keep work and play separate. Using a single VoIP phone you can have one line for work and another for personal use. During work time, you could have your personal line divert straight to voicemail and after closing time redirect your business line straight to voicemail instead. Alternatively calls to both line can be allowed, enabling you to prioritise whether to answer the business call over the social call (or vice versa!).
Your Basket
Your basket is empty.
Get in touch
P: 0330 122 2300
F: 0161 710 3019
E:
A: 24 Market Street, Tottington, Manchester, BL8 4AD
Contact Us Now
Social Media
Trade Membership
Adepteo are Members of the Internet Telephony Service Providers Association