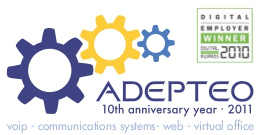 FREE Trial
Sign up today for a FREE 7 day trial of Adepteo's VoIP service!
SIGN UP NOW
Latest News
Free Trial
A FREE 7 Day trial of our VoIP Service on your Android or Apple mobile device.
Free 084 number for people to call you
5 minutes of free calls to try calling UK mobiles and landlines
Instant activation
Free software download
Minimal configuration




‹
›
VoIP Hunt Groups
If you have several people who are all tasked with answering calls then getting everyones phone to ring at the same time or in a prescribed pattern is quite easily achievable.
Ring the three main sales people for 10 seconds and if they are all on the phone or if no-one answers the call then start ringing the support team as well. If all else fails then you can pass the call onto a message taking service or a receptionist. The permutations and possibilities are endless and can be tailored to exactly what you need for your company to operate efficiently.
Your Basket
Your basket is empty.
Get in touch
P: 0330 122 2300
F: 0161 710 3019
E:
A: 24 Market Street, Tottington, Manchester, BL8 4AD
Contact Us Now
Social Media
Trade Membership
Adepteo are Members of the Internet Telephony Service Providers Association